Need a LinkedIn Profile That Attracts Attention From Employers and Recruitment Agencies?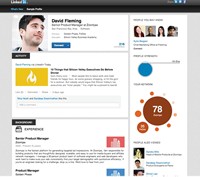 LinkedIn is now part of the vital social media interface available to promote your talent. Like any platform it will not work on its own, one vital component is a well-written Profile that makes a good case for someone to buy-in to the talent you are offering.
Just like a CV, your LinkedIn Profile must tell the reader how you are capable of adding value. It is amazing how many organisations want to talk to people that can bring something meaningful to their party - surprise, surprise it's called VALUE!
If you are struggling with the words for your CV, then a LinkedIn profile will undoubtedly cause you the same sort of dilemma. Time to get some professional help perhaps from a professional CV writing service.
Bradley CVs can produce an attention-getting LinkedIn Profile for you that attracts both employers and recruiters for £89 if purchased with a professional CV from our CV writing service, £119 if purchased after your CV, or £197 if purchased separately.
If you want to network with like-minded professionals, attract the attention of recruiters and employers then this investment will pay for itself in no time!
When you get us to professionally produce your LinkedIn Profile, it will be like having your own personal website that markets your skills directly to both employers and recruitment agencies. We'll help you with the vital headline, summary, experience and education sections.
All you need to do is fill in a simple questionnaire and then we'll produce your LinkedIn Profile. If you prefer a telephone consultation and you're not ordering a CV, then you may want to think about our Premier LinkedIn Profile for £397, which includes a proof version and a follow-up phone consultation.
Other pages to visit: